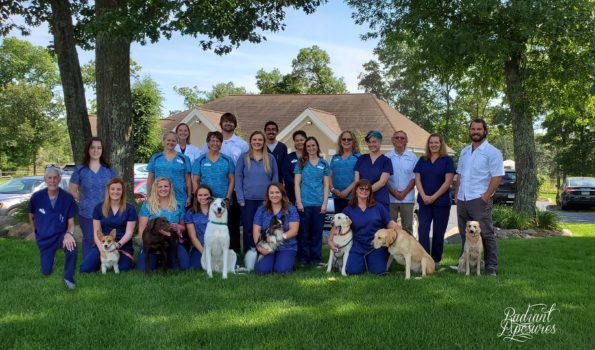 If you have an after-hours emergency, please call our hospital at (218) 822-6000
to have the on-call doctor paged.
Animal Care Center shares emergency call on a rotating basis with other local hospitals.
If calling after 11:00 pm your call will be routed to a Blue Pearl or Fargo Animal Emergency Hospitals.
As you may already know, Animal Care Center partners with other veterinary clinics in the Brainerd/Baxter area to provide access to after-hours on-call emergency services from morning to late evening (with overnight care being provided by regional, fully-staffed emergency clinics). We are excited to announce that we are adding another team of dedicated, caring professionals from Crosslake Veterinary Hospital to the on-call rotation. The doctors at Crosslake Veterinary Hospital are kind, compassionate, and provide excellent medical care, so we are confident that your pet will be in good hands. For after-hours emergencies, please call our office at (218) 822-6000 and follow the prompts for emergency care to receive further instructions.
COVID-19 Update – Due to the recent COVID cases in our area, masks are now required to enter the building.
Dear family & friends,
We wish to keep you informed of our commitment and plans to care for you and your treasured pets in the midst of the COVID-19 environment.
Animal Care Center has been, and will remain, available for urgent care cases and emergency services for your pets. We still partner with other local clinics to provide this after-hours service as well as utilize Fargo Animal Emergency Hospital, Blue Pearl emergency clinic in St. Cloud, Duluth and Metro when a pet needs constant monitoring or when overnight care is indicated.
Wellness care for your pets can be scheduled at this time. Urgent, critical, or time-dependent wellness care is being given priority. COVID-19 has changed how we currently do business, and in our caring for team members and their families, has caused us to schedule out farther then we want. When you call to schedule, we will evaluate your pets needs and find an appointment for you. We take many parameters into account when scheduling. We continue to ask for your patience and understanding in this matter. Know that our dedicated team is back to full staff and working harder then ever to care for your pets.
Please feel free to come on in or call when you arrive. Curbside service will continue for those that prefer to wait outside. Clients will be invited to enter the building when an exam room and doctor are ready. Due to the recent COVID cases in our area, masks are now required to enter the building. Prescriptions, pet food, and products will continue to be available for pick-up. Calling ahead and paying by phone is extremely helpful. When possible, give us a 48-hour notice.
Grooming is back! All three of our groomers are working very hard to get back on track. We suggest making your grooming appointments at least 8 weeks in advance. Many clients book 3 or more in advance!
Where appropriate, telemedicine is being utilized to care for pets. Clients may call and schedule or email for a time as well as submit pictures for evaluation.
Pet ownership continues to be considered a safe activity with so many benefits to the people our pets "own". You may interact with your pet as usual but continue to practice good hygiene during these interactions. The CDC and other regulatory bodies continue to monitor domestic pets for COVID-19. To date, no human transmission from a domestic species has been documented. In fact, quite the opposite has occurred. Almost without exceptions the very few pets that have tested positive are found when a family member is ill with COVID-19. Even when testing positive, most pets remain symptom free. Until more is known, the CDC recommends that "out of an abundance of caution" ill family members do not care for pets when possible. We will keep you abreast of any changes in this thinking when, and if, they occur.
Please continue to keep your pets current on heartworm and flea and tick preventatives. Even if your pet's wellness is currently overdue, we want to keep your pet protected. Veterinary Client Patient Relationships (VCPR) are able to be extended due to COVID-19. If you have questions or concerns, please contact us.
If you are ill or suspected of being ill with COVID-19 and you have a pet that needs care, please notify us and we will determine the correct method to provide veterinary care for your pet.
All of us here at Animal Care Center truly enjoy being the "Your other Family Doctors". We know how special pets are to our clients and how they enrich our lives. Please be patient as we navigate these changes. Please phone or email (currently preferred) to contact us with any questions.
Sincerely,
Drs. Rehnblom, Sawyer, Haberman, Fuhrman and Brewer
Welcome to Animal Care Center Baxter
Animal Care Center is a full-service veterinary medical facility, located in Baxter, MN. The professional and courteous staff at Animal Care Center seeks to provide the best possible medical care, surgical care and dental care for their highly-valued patients.
We are committed to promoting responsible pet ownership, preventative health care and health-related educational opportunities for our clients. Animal Care Center strives to offer excellence in veterinary care to Baxter, MN and surrounding areas.
Please take a moment to contact us today 218-822-6000, to learn more about our veterinary practice and to find our more information about how Animal Care Center can serve the needs of you and your cherished pet.
Our Mission
To provide an exceptional client experience by advocating for the needs of pets and providing excellence in healthcare and education.