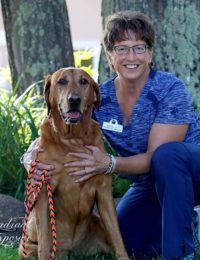 Karen is our technician manager and joined the Animal Care Center team in 2001 when the practice opened. She's been a CVT for over 30 years and still loves what she does. She enjoys the daily challenges of her career and the opportunity to always keep learning. "It's amazing to see the changes and advancements in pet care that I have seen in my career as a CVT." She enjoys saltwater & freshwater fishing, traveling, reading and the outdoors with her husband Mark and her Lab, Lucy.
Years in Practice: 33
Education: University of Minnesota
Email: karen@animalcarecenterbaxter.com
Please feel free to use this email address when you have a need to contact a manager directly. If you have an emergency or if your need is urgent it is best to phone our office at 218-822-6000. Emails may go several hours or even days before they are checked and responded to.