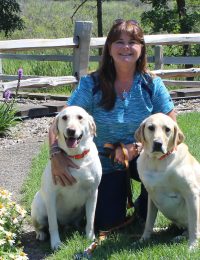 Teri is our office manager and has been at Animal Care Center since it's opening in 2001. "I really enjoy the family atmosphere and working with team members that truly respect and care for each other and the pets in their care." She enjoys horseback riding, camping, working on her hobby farm and spending time with family, friends, and Mother Nature. Teri is a rock-hound and collects rocks wherever she goes!
Teri also spends time off with her home based business, creating one of a kind, ceramic urns for departed pets and is an active member of the Cass County Sheriff's Mounted Posse. Teri shares her home with husband Dennis; 2 yellow labs, 1 barn cat, 2 quarter horses & 2 miniature donkeys.
Years in Practice: 20
Email: Teri@AnimalCareCenterBaxter.com
Please feel free to use this email address when you have a need to contact a manager directly. If you have an emergency or if your need is urgent it is best to phone our office at 218-822-6000. Emails may go several hours or even days before they are checked and responded to.